This is not really about hiking. After keeping my mouth shut for 20 years, I must perform a public service announcement.
This is not a rogue opinion. I have seen very knowledgable people quake when hearing this fellow's name.
Michael Kelsey writes killer desert hiking guides.
It's not a joke, I wonder how many people have died using them.
The problem is that his books are very popular with booksellers. Neophyte and tourist desert hikers buy a lot of his books.
Here are some general weaknesses with his books:
1) He walks at a speed of 4-5 miles an hour in all terrains (and doesn't tell you that). No one can do that. Everything is a freeway to this guy. His books are not very descriptive (in my humble opinion) because he is going too fast to see anything. So he is great, because allowing enough time and water for hikes as he describes them, gets you halfway. DOUBLE ALL TIMES ALLOTED IN HIS BOOKS!
2) He writes trail descriptions in kilometers. It's very difficult to convert linear measurements when you are out of your mind with dehydration and sunstroke, since he has underestimated difficulty of a hike. Let this sink in, he WRITES U.S.A. DESERT HIKES IN METRIC DISTANCES. Nice!
So at best, he is just unconscionable.

Just an experience that my wife and I had using one of his hiking guides. (By the way we are very good hikers, but not Supermensch).
One of his "hikes" was a swim and dive. We can't swim. Truly one of the miracles in our lives happened on the day in question.
My wife and I should have died that day-100% certain.
At the beginning of the "hike" narrative in the book, Kelsey says to take a nearby river measurement to see if it's safe to hike in the canyon. The measurement was "safe". Oh by the way, he said "you might want to put inner tubes on the kids." Guess what. the kids would have been dead. No miracles could have saved them. So we figured we would play it safe and take inner tubes.
So, I'm floating down the lazy river on my stomach, my wife on her butt, in inner tubes. We are just waiting until, for sure, there will be plenty of bank for hiking. I guess we were thinking it wasn't really a hike yet, but it was mellow.
We had tried dozens of this fine fellow's hikes, had allowed double time and water for the hike, and made sure that the "measurement" was safe for hiking.
Keep in mind, the place we were at, is the type of place where you might run into no one for years. The population per square mile is zero. We often hiked in the Utah desert without seeing anything alive except for rattlers and bighorn sheep.
If you're familiar with the San Rafael Swell you know what I mean.

THE MIRACLE: As we are floating la, la, la, I hear a little whoosh. Now we are going fast. All of a sudden two guys are standing above us on huge boulders with wings on their backs, yelling "Don't go that way!" It was a waterfall, we would have died, me going headfirst. I certainly believe that help materialized from our need.
Conscientous book writer didn't say a thing about navigating waterfalls on the hike. We wouldn't have tried it. We can't swim. The angels had a good book by another author. They had ski poles and an extra raft for their equipment. We had backpacks and inner tubes.

I'll make it short now. Well, they saved our lives by pulling us out with the ski poles just before we went over the falls. I still spent the rest of the "hike" under water hanging onto my inner tube, getting sucked into whirlpools, fun stuff like that. There were many more waterfalls, many torrential rapids.
My wife, who can't swim at all, went out of her mind having to do dives from boulders. She didn't know which method of death to chose.
Well we made it, and I only got hypothermia. Our guardian angels' river trip was ruined babysitting us. At least they had known what they were in for.
Oh by the way, there is a second part to the hike. We didn't try it. It was rated more difficult with some minor log obstacles. I can imagine. The part we did had had no obstacles.





Steve Allen's guides are pretty realistic (the most important thing) for Utah hiking (University of Utah Press).
My sis gave me a good book which highlights hikes in the Superstition Wilderness near Phoenix, Arizona. It is by Jack Carlson & Elizabeth Stewart (Clear Creek Publishing).
If a person is interested in Oregon hiking I recommend William L. Sullivan's guides. He explores the state in 5 books, regionally. He is a good photographer too (Navillus Press).


Here is a website I enjoy:www.americantrails.org. Just put in the state where it says "Select a State" and there you go! Some bicycling is discussed as well as hiking. There are all lengths of trails on the site, up to thousands of miles long. Well, you don't have to do the whole trail, or do it all at once. For long distance (multi-day, state, week) trails don't click a state. Here's what I do: I go to http://www.nps.gov/nts/ and click "National Trails System Map" (there is also a "Visit the Trails" format there). Then there are 3 map formats available. I use "Adobe Acrobat PDF". Now you have the trail that you are interested in, and the American Trails site can direct you to some printed guidance by putting the trail name in their "Search Our Website" area and hitting GO.


ATTENTION SHOPPERS!
WILL TRADE OR SELL washer pump in box, '75-'93 Volvo 240, bullet connector adaptation. Elvis Presley LP Blue Hawaii, #LSP 2426, VG+, in cello.


That was just a mock up-checking you.


I've climbed a couple of 14er's and enjoyed that, but I don't extol the virtues of mountain hikes easily. I'm a desert fanatic. The area around Sharkstooth Peak in the La Plata Mountains (San Juan National Forest) is special. This is not far from the delightful town of Durango, Colorado. To find this area use Rt. 160, which runs between Durango and Cortez. Turn north, between the towns of Mancos and Hesperus, on La Plata Canyon Rd (currently 124 Rd. but NFS changes their #'s) to the road's end at Kennebec Trail Head. From the trail head travel steeply uphill (on The Colorado Trail, west) to a 3-way junction with Indian Ridge Trail to the right. You have been and will continue to be on The Colorado Trail on Indian Ridge. The first mile or so (to Indian Ridge) is a grind, but beautiful Taylor Lake is there to distract you on your left. There are many options at the 3-way intersection. To the southwest is Centennial Peak. Sharkstooth Peak is almost due west. What I like to do: Turn right on the ridge for about a mile, leaving time (and water) to retrace and head over to Sharkstooth Peak, about 2 1/2 miles from the 3-way. I had intended to try the Highline Loop (it's on the same La Plata Mts. link map), but we were beat. The elevation is over 11,000 feet around this place, and is exhausting. Views are great from anywhere in the area, and you still get the nice lake on the downhill back to your vehicle (high clearance recommended).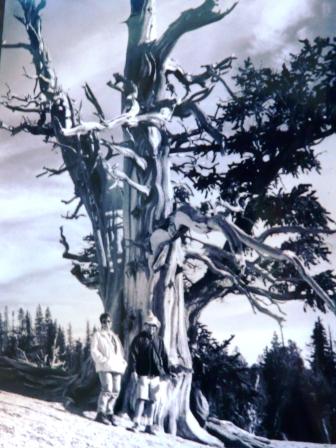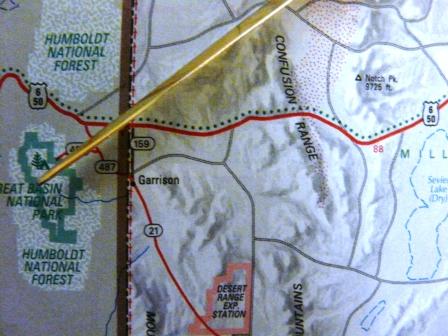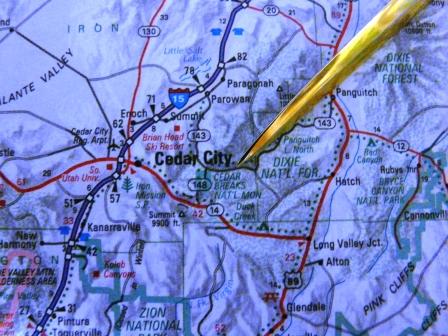 BRISTLECONE PINES:
Bristlecone pines generally look like death warmed over. But they've seen a lot.
These amazing trees fit among the world's oldest living things. There is a specimen at Great Basin National Park in Nevada with longevity of 4500 years on earth (I couldn't survive where Bristlecones live for 45 hours). The park offers hiking trails to these amazing trees as well as a hike to Wheeler Peak. Great Basin is a large and varied park with little visitation. Another great place to see Bristlecones is at Cedar Breaks National Monument's "Spectra Point" (PICTURED on the "Ramparts Trail") near Cedar City, Utah. Another aspect of the monument: there is an amphitheater similar to Bryce Canyon's without the crowds.


Cautionary: Both Cedar Breaks and Great Basin are at high altitude. Remember, Bristlecones love the worst weather and terrain on earth.


01/03/2012, Update on THE AUTHOR
I've noticed that Kelsey's newest editions (reprints + additions) have changed. His new San Rafael edition warns me to stay out of the Black Box. He figures better late than never I guess. The newest Paria edition says "Don't Blame Me". No doubt pressure from safety advocates made this fool wake up just a little smidge. The original text still reads nonsensically, through a miasma, for the hiker to labor over and decipher.

Now I'll give THE AUTHOR his usual due: he gets us to where ever (if one can find his trail heads), and nobody else goes where HE does.
For instance, in "Hiking and Exploring the Paria River", he gets us to a lot of neat mushroom formations (or Toadstools). The back road description to Wahweap Toadstools is pretty good. I would add that one should be sure to continue heading easterly (last part of the road is designated "Administrative" ? by BLM). "Side Step Canyon" is certainly worth the view. THAT ROAD DOES NOT GO THROUGH TO BIG WATER. Misleading as usual there Michael. We never did find his "Yellow Toadstool" in "Chimney Rock Canyon" but it's a beauty of a canyon anyway. The road now ends at mile (marked on Kelsey's map 28B) 3.6. I won't bother you about the Red Toadstools. Trail's right on the highway.
As usual, I recommend borrowing his book. Don't buy it.

Here's more bitching about M. Kelsey: A continuing saga. Complaining about this guy here, on Ezine, on my blog. I've had several of his hiking (loosely) guides and he doesn't talk about many day hikes. Here is a guy who fills his books with 8-10 hour (at THE AUTHOR'S ridiculous speed) hikes. That means overnighters for normal people. Doubling this fellow's hiking times is not out of order. He also has a penchant for stupid hikes, like hikes to water tanks, piles of rocks, earthen dams. In his Paria Canyon "guide" there is not much worth the effort. Most of the best stuff in there is well known and Kelsey does not need to tell us about it. Do we need to know about hiking Bryce Canyon or The Wave? C'mon MK.